mxODBC Connect Change Log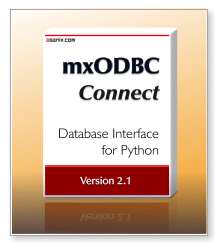 Changes from 1.0.1 to 1.0.2:
Upgraded the eGenix pyOpenSSL version included in mxODBC Connect Server to

0.9.0-0.9.8k

Fixed a problem with connections sometimes timing out after 10 seconds of inactivity.
Connection errors now cause an implicit immediate close of the connection (without having to wait for a timeout). This allows the client to shutdown much faster when exiting the Python client application in the situation of a broken server connection.
Clarified the INI file format used by mxODBC Connect Server and Client and added an extra section for this to the documentation.

Changes from 1.0.0 to 1.0.1:
Added cursor iterator support to mxODBC Connect Client.
Upgraded mxODBC version included in mxODBC Connect Server to 3.0.3
Fixed a problem with database connections being kept alive in sessions that were not explicitly closed by the client application.
Fixed a bug in print_resultset() due to a missing import in one of the modules.
mxODBC Connect Client prebuilt archives failed to install on non-Linux platforms.
mxODBC Connect Client's ServerSession.close() will no longer cause error messages at Python exit time, if the close event cannot be communicated to the server.
Changes from 0.9.3 to 1.0.0:
Further improved the mxODBC Connect network layer, resulting in much better fetch and round-trip performance, esp. for SSL connections
Improved the documentation, added screenshots and more configuration notes as well as tips on how to tune the network performance
Fixed a problem with a full Windows event log causing the mxODBC Connect Server not to start
The main_timeout configuration setting in both client and server configurations was split into send_timeout and receive_timeout for better customization on asymmetric network setups
The default for the client's server_connections configuration option now is the sorted list of connection section names
Changes from 0.9.2 to 0.9.3:
Enhanced the mxODBC Connect client-server performance substantially
Added optional compression of all network communication (enabled per default)
Fixed a bug related to a missing DLL in the Windows installer of 0.9.2
Fixed a problem with fail-over on SSL-enabled connections
Changes from 0.9.1 to 0.9.2:
Enhanced the SQL Server in the Linux mxODBC Connect Server version
Improved the documentation and clarified a few things
Added more FAQs
Added Python 2.6 support
(c) Copyright 2000-
2023
eGenix.com Software, Skills and Services GmbH, Langenfeld, Germany. All Rights Reserved.