mxURL Change Log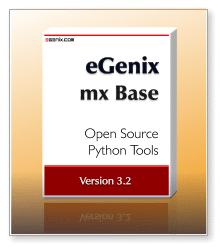 Change from 3.0.0 to 3.2.6
Added a work-around to resolve a segfault when exiting the Python 2.7.4 interpreter. This is a Python bug which was introduced in Python 2.7.4 and will get fixed again in Python 2.7.5 - see http://bugs.python.org/issue17703
Added sections on URL join operations and interaction with strings to mxURL documentation.
Changes from 0.3.0 to 3.0.0:
Added .querydecode().
Moved package from the mx Experimental Distribution to mx Base Distribution
Synchronized version number with the distribution.
Changes from 0.2.0 to 0.3.0:
Added aliases quote() and unquote().
Changes from 0.1.0 to 0.2.0:
Added support to inherit queries and parameters when joining with empty URLs or URLs which only contain a fragment. This enhances compatibility to URI (RFC 2396).

Added more tests to test.py.

Added note about the URL constructors raising errors when finding unknown URL schemes.

Added aliases quote() and unquote().
(c) Copyright 2000-
2023
eGenix.com Software, Skills and Services GmbH, Langenfeld, Germany. All Rights Reserved.