Python Meeting Düsseldorf - 2021-04-14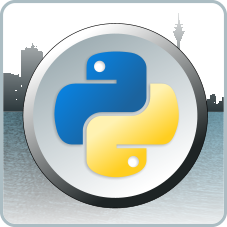 The following text is in German, since we're announcing a regional user group meeting in Düsseldorf, Germany.

Ankündigung
Das Python Meeting Düsseldorf findet dieses Mal online statt.

14.04.2021
18:00 Uhr (MESZ / CEST)
Online

Die Details hierzu posten wir in unserer
Telegram Gruppe
, finden sich aber auch auf
Meetup
.


Die Teilnahme ist - anders als bei unserem Vorortterminen - kostenlos, da keine Raummiete anfällt.

Programm
Bereits angemeldete Vorträge
Dominik Geldmacher
How to flatten a list in Python
(fällt u.U. aus)
Marc-Andre Lemburg
print() für's Debuggen und Alternativen
Jens Diemer
PyCharm "Code with Me" Demo
Jens Diemer
dev-shell
Weitere Vorträge können gerne noch angemeldet werden. Bei Interesse, bitte unter
info@pyddf.de
melden.
Startzeit und Ort

Wir starten um 18:00 Uhr. Die Vorträge werden sowohl über Zoom als auch in einem privaten YouTube Stream verfügbar sein.
Einleitung
Das Python Meeting Düsseldorf ist eine regelmäßige Veranstaltung in Düsseldorf, die sich an Python Begeisterte aus der Region wendet.
Einen guten Überblick über die Vorträge bietet unser
PyDDF YouTube-Kanal
, auf dem wir Videos der Vorträge nach den Meetings veröffentlichen.
Veranstaltet wird das Meeting von der eGenix.com GmbH, Langenfeld, in Zusammenarbeit mit Clark Consulting & Research, Düsseldorf:

Programm
Das Python Meeting Düsseldorf nutzt eine Mischung aus (Lightning) Talks und offener Diskussion.
Vorträge können vorher angemeldet werden, oder auch spontan während des Treffens eingebracht werden, sofern noch Zeit verfügbar ist.
(Lightning) Talk Anmeldung bitte formlos per EMail an info@pyddf.de
Anmeldung
Meeting Anmeldung bitte per Meetup oder formlos per EMail an info@pyddf.de

Weitere Informationen
Weitere Informationen finden Sie auf der Webseite des Meetings:

http://pyddf.de/

Viel Spaß !
Marc-Andre Lemburg, eGenix.com
Published: 2021-04-12